A new white paper was released earlier this week by New Zealand's Our Land and Water National Science Challenge, detailing the state of regenerative agriculture (RA) research in New Zealand, studying over 70 organizations and 200 participants across four agricultural sectors (dairy, sheep & beef, arable, and viticulture), with a specific focus on the overlap with indigenous Maori culture.
"The research underpinning this paper aimed to: (1) better understand what RA means for NZ and (2) develop a scientific framework for guiding RA research in NZ. It involved qualitative and quantitative online surveys, focus groups and literature/website searches, and focused primarily on what happens within the farmgate."
While this research is New Zealand-focused, the insights are applicable across a broad range of contexts. Notably, the authors do not provide a single definition of 'regenerative agriculture,' but instead note that its distinguishing features include…
"the holistic pursuit of continuous improvement, not only on environmental but also on social, economic, and cultural outcomes, both within and beyond the farm gate."
They continue…
"RA is principles-based. This has a bearing on everything from the mindset of the individual farmer to the care of the farm system, to the stewardship of the larger ecology in which the farm sits, and the surrounding community. RA is not just a number of core practices, farming strategies or prohibitions."
The above diagram from the white paper shows the differences between practice-focused (i.e. industrial) and principles-led systems (i.e. regenerative systems). This is an important differentiation point not often discussed in the greater regenerative space, but one that is worth repeating.
With Holistic Management, there is no one-size-fits-all approach, nor are there required practices that must be implemented. Rather, decisions are made in line with one's unique context while paying honor to the interconnected living systems around you (i.e "wholes within wholes.") Holistic Management, in essence, is a principles-based approach.
The authors additionally note that within traditional Maori culture in New Zealand, it is widely understood that:
"the wellbeing of humanity is reciprocally bound to the viability and vitality of the natural world" and "is aligned to and important in the context of RA,"
…but, due to "settler agenda," the ability of indigenous people to listen to the land, read its signals, and act accordingly has greatly diminished.
Thus, in order to achieve the system-level transformation advocated by regenerative agriculture enthusiasts, it is imperative to acknowledge and incorporate traditional worldviews and knowledge.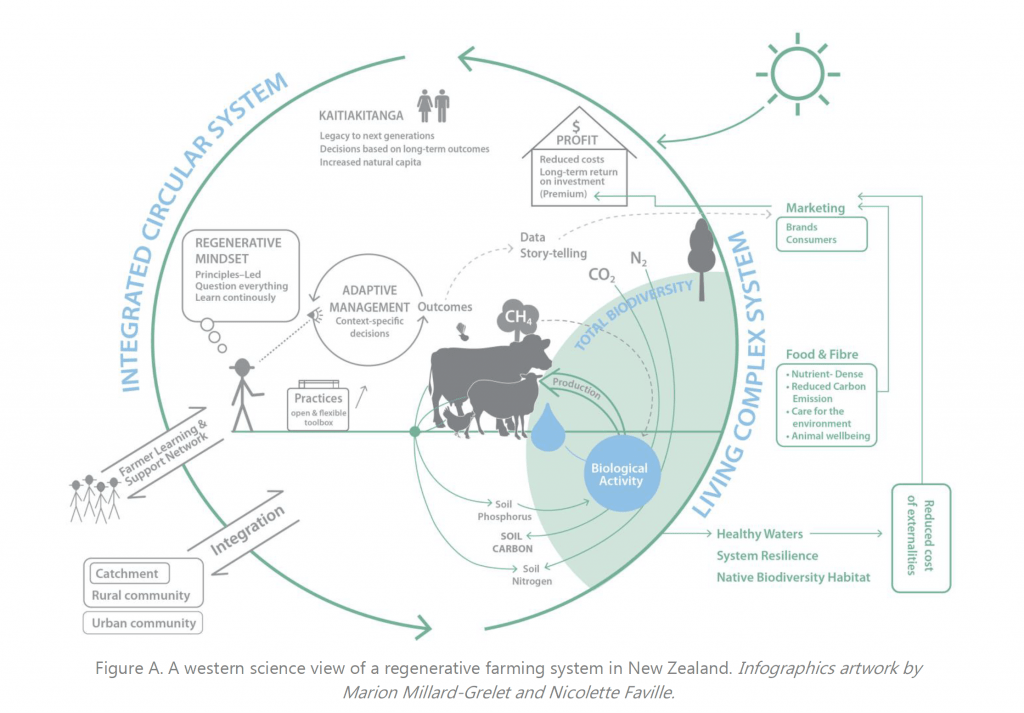 In terms of research, the authors emphasize that the ultimate success and impact of regenerative agriculture research will depend on it being implemented in:
"an adaptive, transparent and agile manner in genuine partnership with iwi ["a confederation of tribes"], successful RA practitioners and the wider farming community, industry and decision makers, scientists, and representatives of market/brands – to enable the rapid uptake of research findings by both consumers and producers."
They go on to provide 17 specific recommendations for tenets of future research, including the study of real-world practitioners with years of experience, honoring the need for adapting research amidst changing conditions, and a notable posit for how scientific information can better inform and influence consumer purchasing behavior.
"We posit that direct data-based feedback loops between consumers, producers and scientists, where the collection, sharing and interpretation of data is not primarily mediated by scientists, but is on the contrary collaboratively mediated by producers, scientists and market representatives, would be more effective at enabling this direct feedback loop, and all four transformations."
In layman terms, the data supporting regenerative agriculture cannot exist entirely behind the paywalls of peer-reviewed journals, and instead we should strive for an integrated sharing of data between all relevant parties (brands and consumers included), allowing for a greater understanding and appreciation for the outcomes being seen.
Our takeaways from this white paper?
Regeneration should be context-specific.
Traditional knowledge should be embraced.
Outcomes should be measured.
Research should be adaptive.
Data should be shared.
Thankfully, that's the path we're already on…